The Easiest way to stay compliant with Working at heights legislation in Canada
According to the widely cited Hierarchy of Fall Protection, the best way to comply with Working at Heights legislation is to eliminate any need to work at heights. In the many cases where this isn't possible, there are a number of laws that govern working at heights that must be followed. The next best way to stay compliant with these laws is to put up a passive fall protection system (guardrail systems or safety netting systems) that doesn't require any extra effort from a user. The most common solution that is searched for however, is active fall protection (anchors, harnesses, and lanyards), which requires active participation from the user on top of; working at heights training, annual inspections, and record keeping compliance.
However, there are a number of different scenarios and grey areas, even inside what is required by law, that can be left open to interpretation by an inspector.
The point of this guide is to bring together the most frequently asked questions that people are coming to us with and to explain some concepts that can help you stay compliant with working at heights legislation in Canada in a way that makes sense to you.
Also, it can act as a resource that you can share with your team.
The Hierarchy of Fall Protection
When it comes to any industry, there are generally accepted best practices;
Accountants have Generally Accepted Accounting Principles (GAAP), Project Managers have Agile Principles or Waterfall Project Management, and so on.
The Health and Safety industry has its own set of principles that it follows called the Hierarchy of Controls. These controls consist of Elimination (physically removing the hazard), Substitution (replace the hazard), Engineering Controls (isolate people from the hazard), Administrative Controls (change the way people work), PPE (protect the worker with Personal Protective Equipment).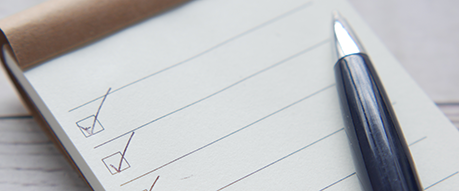 For fall protection and working at heights, this changes slightly and drills down into the specific scenarios that deal with working at heights.
Hazard Elimination
This remains the same and refers to eliminating the hazard so that work can be performed at ground level with no need for an elevated surface.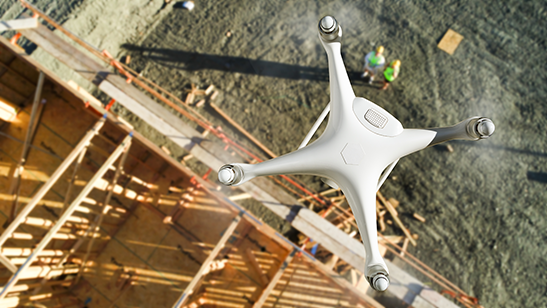 Passive Fall Protection for working at heights
Physical barriers such as guardrail systems (RoofGuard) or safety netting covering;
Edges – Rooftops, platforms, decking, or formwork.
Holes – Floor openings (skylights and hatches), vats, or large containers.
Dangerous Machinery – Conveyor belts, moving machine parts, etc.
Active Fall Protection for working at heights
There are two categories that cover active fall protection, which is fall protection that requires participation or input from the end user.
Fall Restraint
Fall restraint anchor required,
Full-body harness or body belt required depending on the circumstances and risk level (harness is preferred),
Lanyard.
Fall Arrest
Fall arrest anchor or roof anchor (with up-to-date inspection) required,
Full-body harness required,
Lanyard,
Authorized Person Training,
*Written Rescue Plan.
For each of these, approved working at heights training is required as well as annual inspection of fall protection equipment (harnesses and lanyards) by a competent person.
As a shorthand for quick understanding, fall restraint keeps a user from reaching a hazard (such as an edge or unprotected floor); fall arrest will catch someone if they have fallen.
*If someone using fall arrest as a fall protection mechanism falls, then there is limited amount of time to get to that person before serious health damage can occur. The harness that is keeping them from falling is now cutting off circulation to their legs which causes dangerously high levels of stale blood in your legs. An immediate response is needed so suspension trauma doesn't set in which can cause organ failure, passing out, asphyxiation and other dangerous health complications.
Here is a quick overview of maintenance provided by the Canadian Centre for Occupational Health and Safety. 
Administrative Controls
This method is considered the least preferable and least effective among all fall protection controls. It is important to note that on its own, this method does not meet the compliance requirements of Working at Heights legislation. It is crucial for organizations to establish and document policies and procedures that outline how they will ensure compliance with working at heights legislation.
These types of controls could include;
Outlining safe work practices,
Signage,
Where and how documentation is kept,
Weather monitoring,
Emergency response plans,
Training for staff on where controlled access zones are and not to cross warning lines. 
Hierarchy of Fall Protection Infographic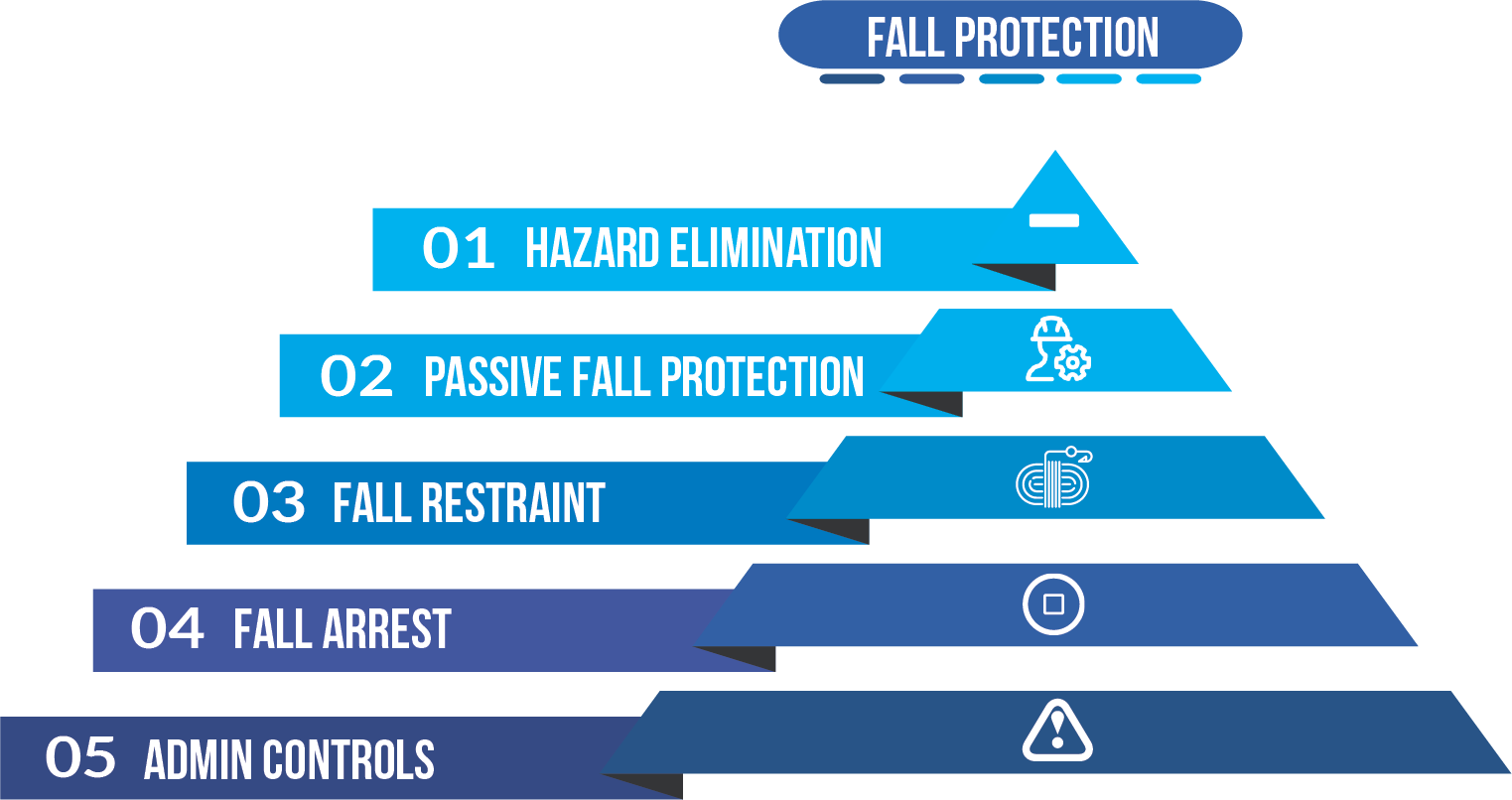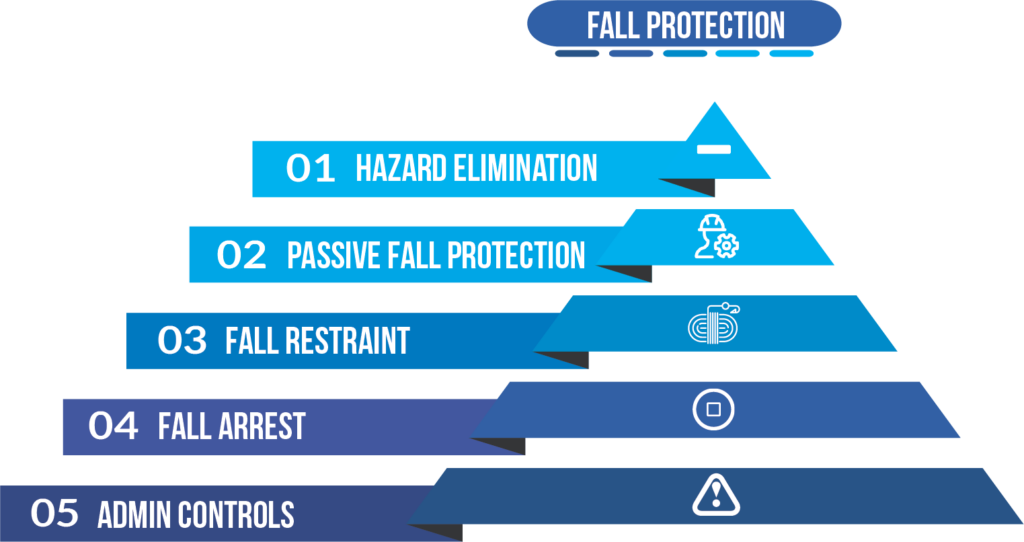 What the Legislation Says about Working at Heights
In Canada, Working at Heights legislation is very similar but varies slightly both federally and from province to province.
For specific applications like ladders and scaffolding, there are specific regulations.
One of the most frequently asked questions about working at heights is, "At what height is fall protection required in Canada?"
Some extra things that need to be noted;
There are certain circumstances where the 3 metre distance becomes 1.2 metres (wheelbarrow or similar equipment paths in Ontario, Quebec, and Manitoba, permanent work paths in Alberta).
When working on a roof that has a 2 vertical to 3 horizontal slope or steeper or where the surface is slippery in the Yukon.
Specific regulations that cover vehicles where the height requirement is 2.4 metres.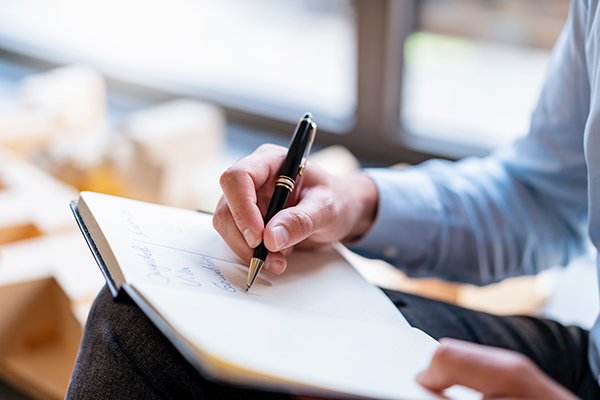 Potential Working at Heights Hazards (and Solutions)
As mentioned, legislation can vary from province to province. They can also vary from situation to situation. Some of which have multiple solutions.
The main risk scenarios for working at heights are (there are many different specific scenarios, which can be categorized under these three);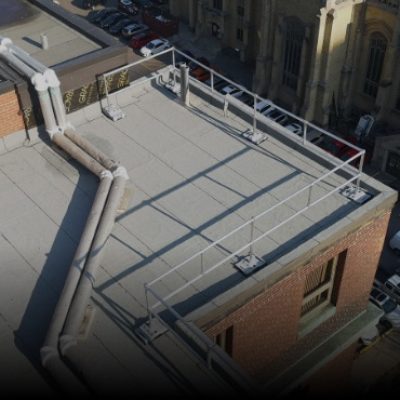 Leading Edges
Any unprotected edge that is elevated above 3 metres (rooftops, platforms, mezzanines).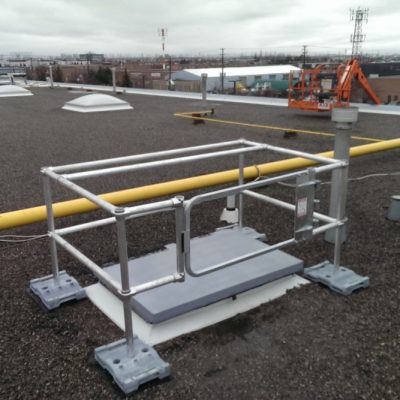 Access Points
These points have the most frequent traffic of any hazard (ladders, hatches, rooftop access doors).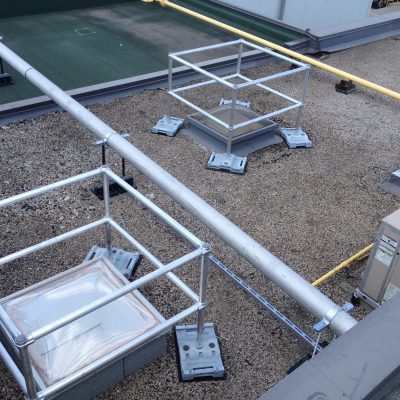 Floor or Roof Openings
Can go unnoticed or give workers a false sense of security (open holes, hatches and skylights).
Leading Edge Before and After
As you can see from the before and after examples above, protection around leading edges can be done in various configurations using guardrail kits. The extra benefit of systems like RoofGuard is that they are a retrofit product that guarantees no leaks in your roof due to its nesting baseplates. 
Access Points Before and After
There are three main access points to a working at heights area; a door on the roof, a roof hatch or a fixed access ladder. Access points are typically the most frequented area on a roof that needs fall protection. Workers will automatically have to visit these areas at least twice every time they need to get on a roof. Both of the systems pictured above are equipped with a spring loaded, self closing gate. 
Floor or Roof Openings Before and After
According to statistics, more people fall through skylights than over the edge of the roof; thus, it is equally important to protect these openings, which are frequently disregarded. When working far from the edge of the roof, a worker moving across the middle of it can get a false sense of security. Workers are more likely to trip and fall through an opening if they are carrying equipment or concentrated on the current task.
Grey Areas to Consider for Working at Heights
There has been a lot published, standardized and turned into legislation about working at heights and fall protection; what is needed, what is required and how to solve for it. There is very little that talks about some of the grey areas of fall protection regulations that could be open to interpretation.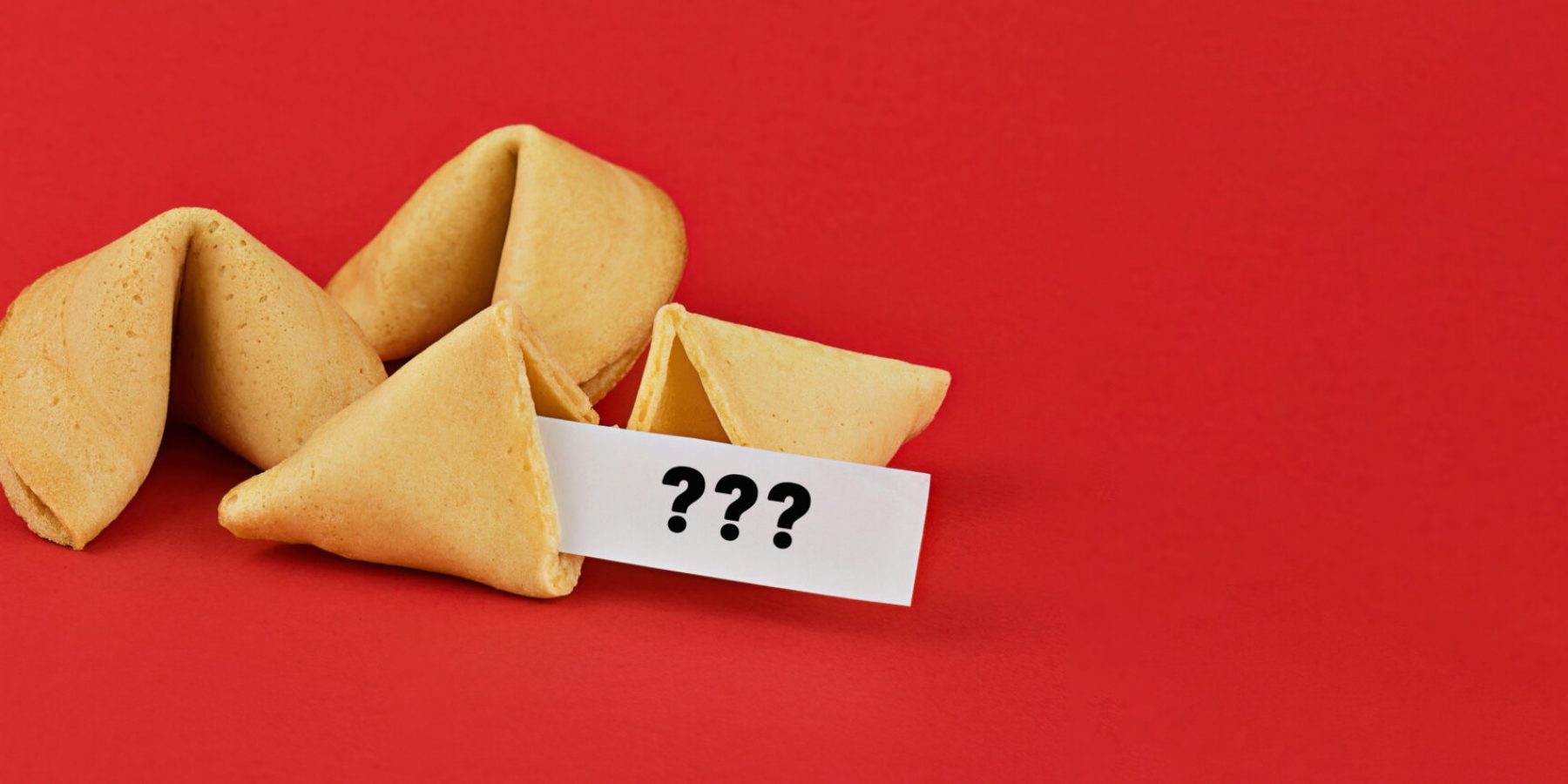 Hypothetical Scenario:
Picture this, you've called in a contractor to work on your HVAC unit. That unit is eight feet from the edge of the roof edge. Technically, this is two feet inside the safe zone of your roof. But the HVAC unit has an access panel that swings toward the edge of the roof. Now your contractor has to step into the danger zone to open up your HVAC unit. 
The simple fix would be to add a guardrail kit to the edge around where the HVAC unit is. That way, you are covered for working at heights, regardless of what happens.
Another Fairly Common Scenario:
A worker has to load or unload a flatbed trailer. OSHA (USA) has mandated that fall protection be provided for anyone working at a height greater than four feet. In Canada, there is no definitive mandate. There are general provisions about hazard recognition, but this scenario is not called out specifically as working at heights. 
As you can see from this video, there is a significant hazard. (WARNING: This video may be disturbing to some viewers)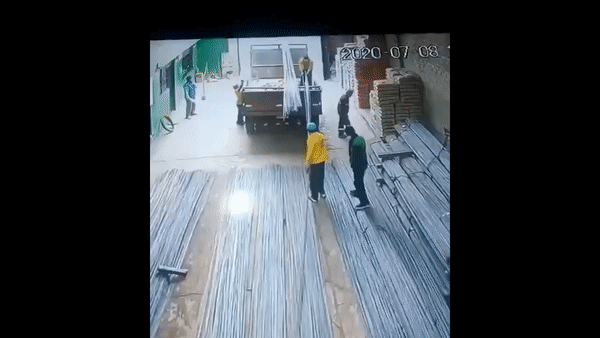 There are several different fixes for this. Sometimes platforms are used, sometimes lifelines are used and there is also flatbed truck netting that can be used in this scenario. Each has its own tradeoffs in terms of which is best suited for your specific scenario.
Working at Heights Safety, in Numbers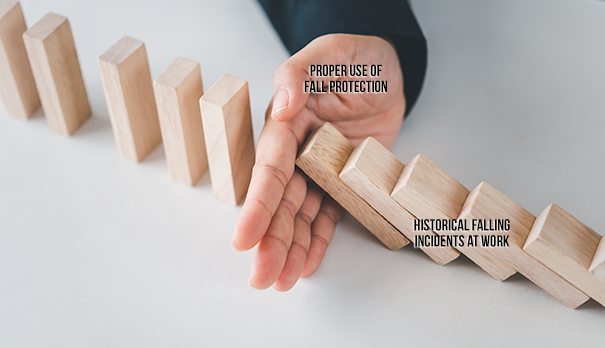 One thing that gets talked about a lot when it comes to working at heights incidents and fall related accidents is that they are 100% preventable when the proper precautions are taken. The most common reasons cited for falls from heights in the workplace are; inadequate training, improper fall protection or improperly maintained fall protection. 
100% Preventable Injuries
In Canada, an average of 40,000+ workers are injured each year from fall related accidents. According to the Association of Workers Compensation Boards of Canada this represents roughly 18% of the "time-loss" injuries across Canada. WSIB estimates that the average direct cost of each of these injuries is $11,771, which translates to $470,840,000 in direct costs alone. This does not include the cost of time lost, production lost, opportunity cost, training, potential fines, and extra legal fees associated with each injury.  
The second leading cause of workplace fatalities is due to falls. Occupational Health and Safety Compliance Ontario says that falls account for an average of 15.49% of total traumatic fatalities per year from 2009 to 2018.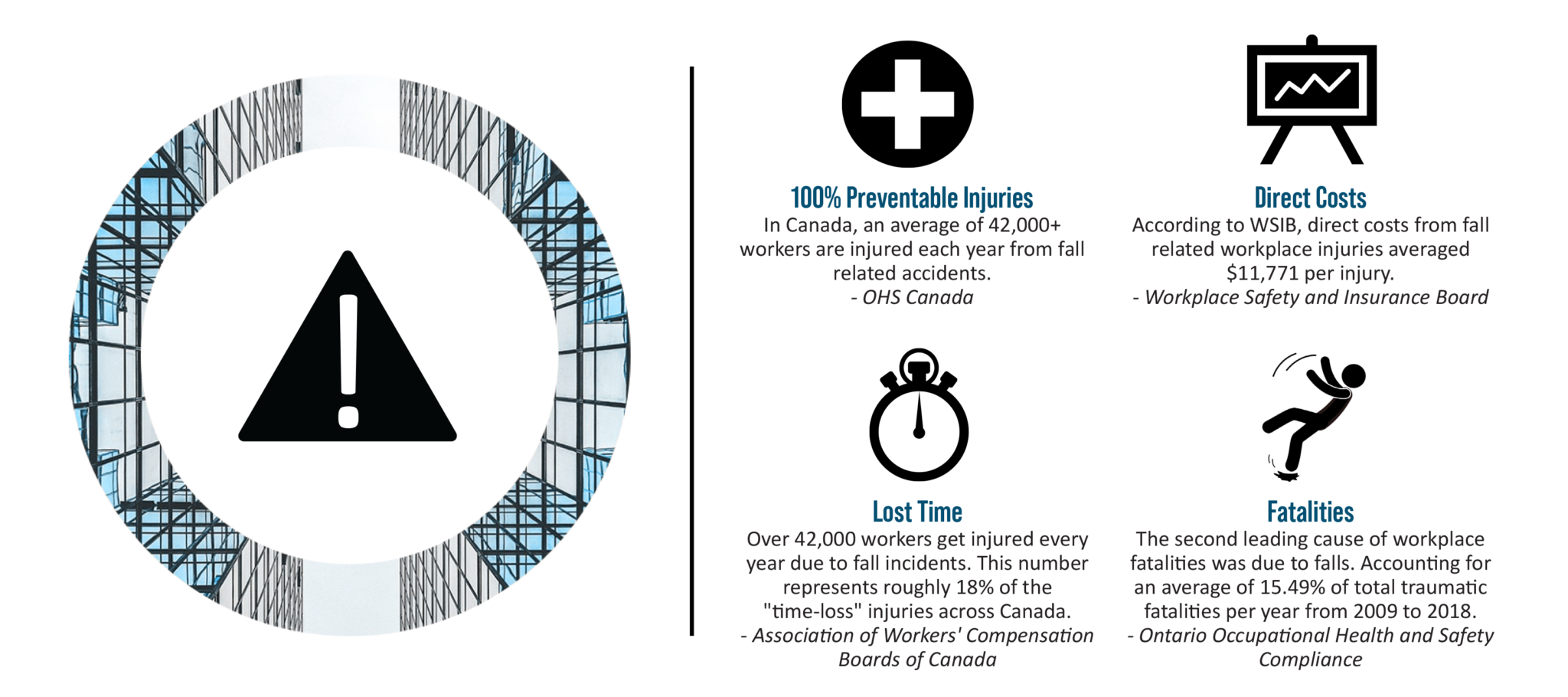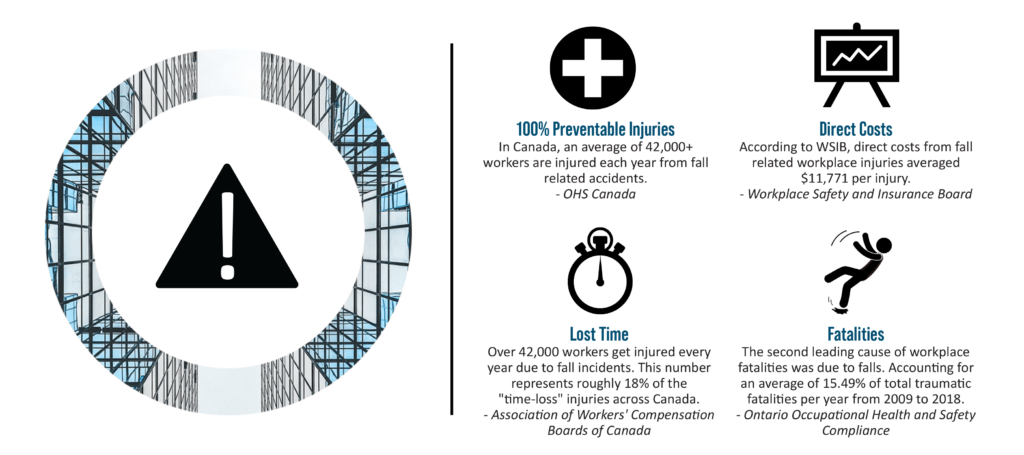 Is cutting corners on safety requirements worth the risk?
Fall protection solutions for working at heights provided by companies such as Liftsafe Fall Protection are an investment in protecting your workforce that ends up saving you time, money, and liability. Short of eliminating rooftop hazards altogether, products like RoofGuard, Flatbed Truck Netting and Pit Netting are engineering controls that meet the Occupational Health and Safety requirements for Working at Heights in your jurisdiction.
Putting it all Together | Final Thoughts on Working at Heights
That should give you plenty of information on how to stay compliant with Working at Heights legislation in Canada for 2023.
Also keep in mind that these regulations are subject to change and it is important to stay up to date.
At Liftsafe Fall Protection, we have a team of in-house engineers that allow us and our clients to do just that.
Liftsafe Fall Protection Inc., is a member of the Liftsafe Group of Companies, and we provide a number of different products and services throughout North America and are considered to be an industry leader in fall protection solutions.
This article was written by Colin Durkin, Marketing Specialist for the Liftsafe Group of Companies with input and fact checking done by our fall protection subject matter experts.