We design, build, inspect, and maintain
Originally founded as Liftsafe Inspections in 1991, the Liftsafe Group of Companies is a privately owned company that has grown substantially over the last three decades. Now a group of five companies that supports a wide range of industries in North America and internationally, we know all there is to know about safety, compliance, and support.
We know that from a safety perspective, every client we work with wants to ensure that their employees go home the same or better than they came in every day. In order to do that, every project, piece of equipment and overall facility needs to be safe. Safety to our team means that our products, equipment, inspections, and installations meet and exceed every regulation and compliance standard. We focus on creating turnkey solutions that allow your employees to do their jobs safely while protecting your company.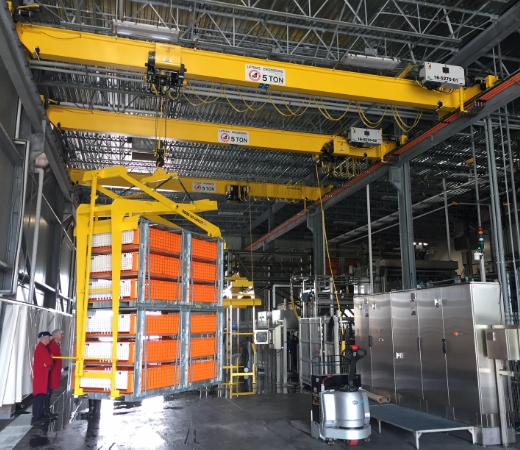 The Liftsafe Group of Companies is part of Amplex, a privately owned Swedish corporate group that acquires, owns and develops technology-based businesses in selected niches. Offering innovative solutions mainly in lifting technology and materials handling, workplace safety and lighting, the group companies contribute to increased efficiency and competitiveness for their customers. Together the companies have operations in some ten countries in Europe, Asia and North America.
To learn more about Amplex, please visit www.amplexab.se.
From design to implementation, we offer services that span the entire life cycle of your lifting, material handling, and fall protection equipment. This means you will have access to an in-house engineering team for all your projects. No more wait times when outsourcing to engineering firms for quotes and approvals. We keep the quality and experience while cutting the time and costs.
Our team will design and approve your projects, while offering the fabrication facilities and equipment needed to complete your project on time and on budget. 
 Consider our team for the entire life cycle of your project. We will inspect and maintain your current equipment to ensure it remains in top working order and meets all regulations. From start to finish, we design, build, inspect, and maintain 
1991 – Dirk Kerbs started the Liftsafe Engineering and Service Group Ltd. at the age of 23, out of the back of his pickup truck.
1995 – R&D Ergo started their business with the vision of finding unique and innovative ways to provide material handling solutions to their North American clients.
2001 – PARCS was founded with the goal of creating a full-service company that can be a one-source solution to all your recreational facility needs.
2010 – Liftsafe Fall Protection joined the Liftsafe Group of Companies with the goal of becoming the industry leader in fall protection solutions.
2016 – The Liftsafe Group of Companies went paperless with the introduction of our online Customer Portal. A secure online system to allow our clients to schedule and keep track of their inspections and repairs with ease.
2018 – Factory Supply joined the Liftsafe Group of Companies to better serve the US market, continuing their focus on safety solutions that are made in America.
Today – We proudly provide industrial products and inspection services for a variety of Fortune 500 companies.
As a company, we have grown and persevered over the past three decades. Our culture and what we stand for has shaped who we are and what we do.